Starting next week, 12 – 15 March in Frankfurt, the world's largest fair for instruments will take place. Musikmesse fair will host the manufacturers, sellers of music accessories, computer hardware, software for musicians and publishers of sheet music.
Last year's edition was attended by 1,512 exhibitors, including 553 companies from Germany, and the remaining 959 from countries around the world. Musikmesse is visited by an average of about 70 000 visitors from that sector of the industry from 109 countries.
In the same place and at the same time, the annual Prolight + Sound fair will take place. It presents the equipment connected with lighting, speakers and communication techniques.
Seminars, lectures and other music events will take place during the fair. You can learn about new options for marketing in the music industry and use of rights and copyright during Musikbiz Congress. Compared to last year, 2014's programme will be much richer, it will have more workshops and panel discussions.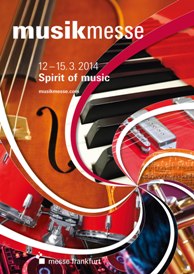 Exhibitors and products 2014
"