A thing that can beget curiosity is that some pianos have Förster logo and some pianos have August Förster name.
Is this the difference in signature only or what is the reason?
It might be quite confusing for the buyers, because sometimes Förster pianos are called just Förster and sometimes the full name August Förster is used. These brands are not equal.
Even though there is some information available about August Förester pianos, this is hardly possible to find anything about just Förster.
There are big differences between the two brands and the buyer and the seller should make sure which Förster piano he is dealing with and price/pay for the instrument adequately.
---
 Czech Republic / Czechoslovakia
Förster pianos were made in Czechoslovakia in Jirikov (Georgswalde) in a factory established by Caesar Förster, August's Förster's son. They were manufactured from 1900 till 1960. In 1945 the factory was nationalized by communists and the connection with German factory ends here, but Förster's production goes on until 1960.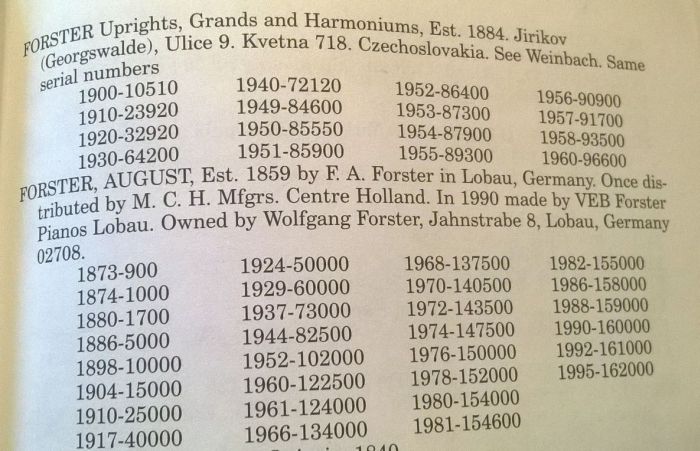 Pierce Piano Atlas 10th Edition by Bob Pierce
Up to year 2000, pianos with August Förster logo were also produced in Czech Republic Petrof's factory, but except the name they have nothing in common with pianos from Löbau – German factory. They have completely different tone, quality, and lower prices.
---
 Germany
August Förster is a brand named after it's founder. It is managed by the same family since April 1st, 1859 – the day it was established. Nowadays, fifth generation Förster family manages the company. The factory is located in Löbau German – city near Polish and Czech Republic borders. Uprights and grands made there are fully handcrafted. The company is very loyal to tradition. Thanks to their attachement to tradition the factory provides pianos with consistent quality and dark tone characteristic for each August Förster instrument. August Förster pianos from Germany are valued in the world and are considered to be of higher quality than Czech's. August Förster or Förster pianos.
---
HOW TO KNOW IF IT IS CZECH OR GERMAN Förster/August Förster ?
The best way to reach out if the piano was manufactured in Germany, or in Czech Republic is to check it on a plate or a soundboard of the instrument (e.g. the logo below)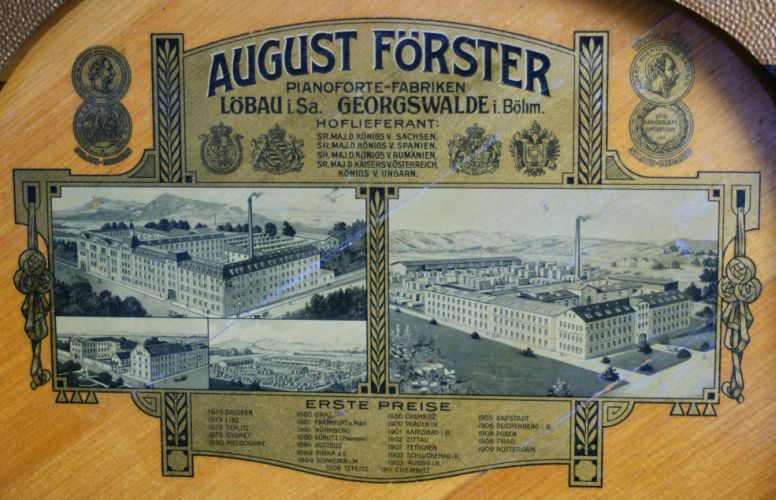 Sources: