A piano as a prop? Why not? Pianos appear quite often in films and are not necessarily only a part of scenography. Action built around these instruments happens to be both intertwined in the main plot, as well as in side scenarios. However, whoever owns or is planning to buy a piano, either grand or upright, will certainly notice any piano appearing on the screen.
 Below, you can find a list of 10 contemporary films featuring pianos. We tried to track down these instruments as thoroughly as possible. If an idea of having the piano from Harry Potter's fantasy world or the piano from Christian Grey's apartment has ever crossed your mind, this is the right moment to consider further steps towards realisation of these dreams.
---
50 shades of Grey  (2015)
piano: FAZIOLI F278
  prise: $268,999  
piece: preludium e-moll op.28, nr 4 by Fryderyk Chopin
The film includes a scene where the main character, Christian Grey, plays in solitude preludium e-moll op.28, no. 4 by Fryderyk Chopin on his Fazioli concert piano. In the meantime, his lover appears to discuss a problem besetting her mind. She notices that all the pieces he plays are very sad, but finally she concentrates on the problem she has come to discuss. She wants to talk about his feelings and thoughts, and solve his problem. According to the novel the film was based on, Christian decides to confide in her in the second part of the novel allowing their love to flourish without the master and submissive relation. Engagement of both sides makes Christian learn true love curing the biggest traumas. Who knows, maybe in the third part he will play Mazurka C-dur instead of preludium e-moll…
---
Harry Potter and the Deathly Hallows: Part I  (2010)


piano: Carl Julius "C.J." Gebauhr
piece: Ludvik van Beethoven – For Eliza
K. Rowling when writing novels about Harry Potter combined two worlds. The real world where everyone goes to work or school exists along the mysterious world full of magic, spells and witchcraft. All seven books were filmed in eight parts. Hermiona, the main character, plays the piano. The instrument is in her family house in the real world. According to harrypotter.wikia.com, it is Carl Julius "C.J." Gebauhr. The scene where Hermiona teaches Ron to play takes place in Grimmauld Place 12. Unfortunately, there is no information about this instrument. However, the piece that Ron tries to learn is the popular "For Elisa" by Ludvik van Beethoven.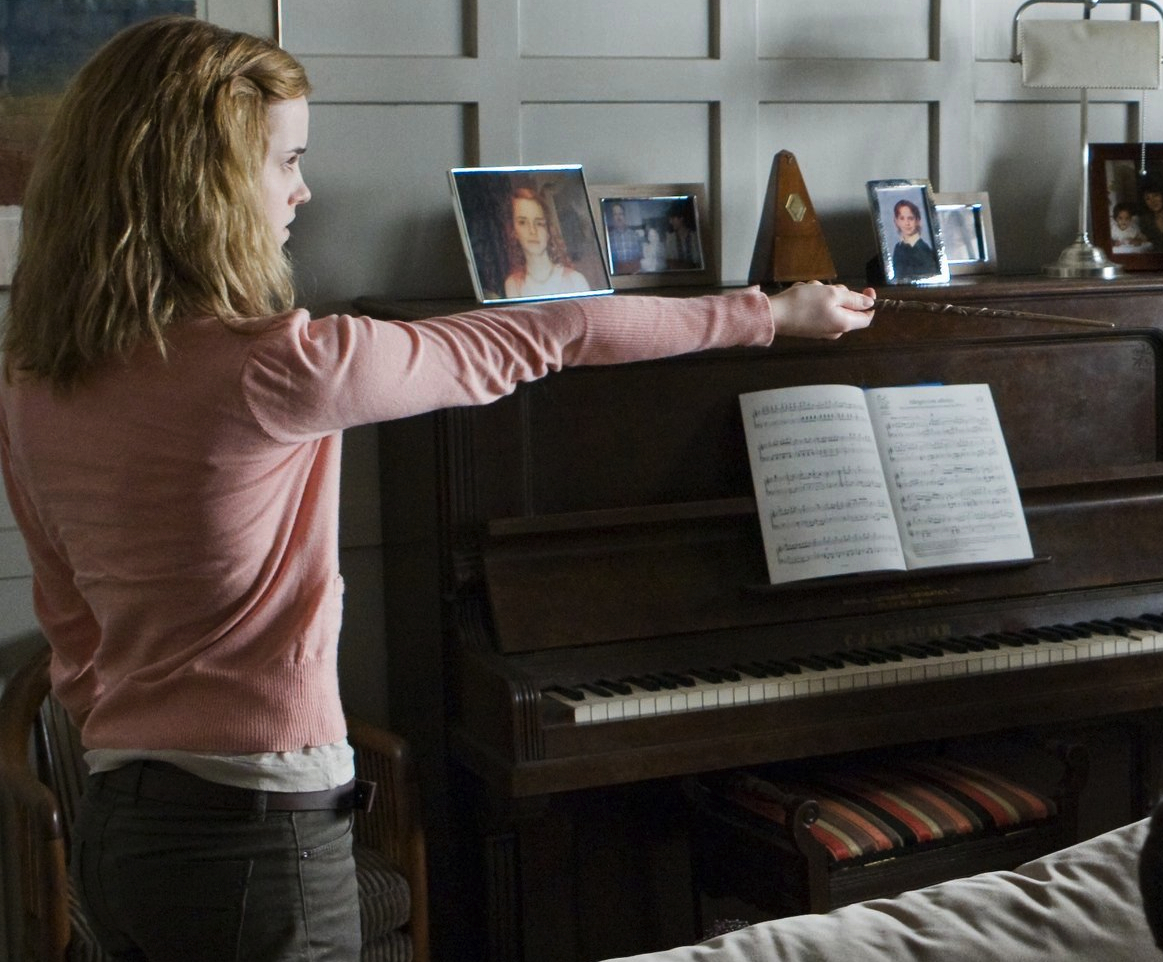 ---
Clouds Atlas (2012)
piano: Erard
piece: Cloud Atlas Official Bonus Track – Frobisher's Audition
This scene shows the interview for the post of a composer's assistant.  Robert Frobisher is a candidate and Vyvyan Arys is a well-known composer experiencing creative crisis. In this scene Robert was supposed to play a hummed melody. At the first attempt, though he played the right melody, Robert proposed accompaniment abundant with dissonances, which appalled Arys who was about to ask Robert out when he played a different version. He chose appropriate accords, added ornaments and played the melody with fluent articulation. This interpretation won Vyvyan's heart and Robert got the job he was applying for. The instrument used for this audition was an Erard grand piano which was in the composer's house:  a castle to be more precise.
---
Twilight (2008)
piano: KAWAI
piece: Bella's Lullaby
 It could be said that Edward and Bella are Romeo and Juliet of our times. Bella is a policeman's daughter, who fell for Edward, an immortal, 109-year-old vampire. Edward was turned into a vampire at the age of 17, keeping the looks of a 17-year-old boy for ever. During his long life, he has acquired a lot of skills, one of them being the piano playing skill. A Kawai grand piano appears in the film when Bella visits Edward in his house for the first time. A piece which Edward played during this visit was Bella's Lullaby, his own melody composed especially for Bella.
Find KAWAI grand piano on Klaviano
---
Superman Returns (2006)
piano: Steinway & Sons
  piece: Heart and Soul
Lois, Superman's girlfriend, and her son Jason get into trouble. Usually, in the films of this kind, a superhero rushes in through the window and saves the people in need. However, this time it's different. When Brutus, the supporter of Superman's enemy, attacks the helpless woman, Jason reveals his skills. He throws a Steinway grand piano into Brutus and puts him to death. He ends the life of the piano by the way, for a good reason however. The piano's last piece played by Jason and Brutus was "Heart and Soul".
---
Iron Man (2008)
piano: Blüthner
piece: Antonio Salieri, piano concert C-dur
According to Antoni Czechow
 A rifle hanging on the wall in the first act must be fired by the third act.
Following this opinion, a piano which appears in the hero action movie must be destroyed by the end of the film. The quoted link presents two scenes. In the first one we can hear Obadiah Stane, Iron Man's jealous betrayer, play his Blüthner piano in his residence. The second one shows the last seconds of a trial of Iron Man's new costume. Unfortunately, the landing on the roof goes wrong and the heavy costume destroys the roof and falls down through all the floors crashing his piano and his car on the way down. As a result, he can watch stars through these holes… from the basement!
---
Why Stop Now / Predisposed (2012)
Stopped audition


 Final audition
piano: Steinway & Sons
piece: Jay Israelson – Predisposed Audition (unofficial title)
Eli (Jesse Eisenberg) – the main character of  "Why stop now / Predisposed"  rushes out of the blue into a prestigious Julliard music school. Having heavily climbed on the stage not introducing himself to the commission, Eli starts playing his piece on a Steinway piano. He not only stops the piece in the middle, but also makes a lot of fuss. Though Eli sees his performance as indisputable failure, the commission must have liked it because they invite him back. This time he plays the whole piece, finishing the film with the last notes of the melody he plays. The piece was composed by Jay Israelson especially for the film.
---
Cruel Intentions II (2000)


piano: Steinway & Sons
piece: Ludvik van Bethoveen – Moon Sonata, Nikołaj Rimski-Korsakow – Flight of the Bumblebee
The scene featuring a Steinway piano introduces the main plot of the film.
Sebastian meets his step sister Kathryn when she plays Moon Sonata by Beethoven. Fascinated by the instrument he asks if this is a real Steinway and if can play it. Before the boy even touches the keyboard, he is warned that his step sister is an exquisite pianist.  But then he starts playing Flight of the Bumblebee. While playing he mentions that the piano needs tuning. His sister is not able to bear it and she shuts the fallboard almost crushing his fingers.
Find Steinway&Sons grand piano on Klaviano
---
Total Recall  (2012)
piano: Yamaha
pieces: Ludvik van Beethoven – Moon Sonata, Tempest Movement 3
Even a film full of shooting and racing in the future world can feature a piano – a Yamaha piano in this case. Douglas Quaid (Colin Farrel) tries to find out whose memory he has had injected by Rekall company. Tired by so far futile search, he sits at a piano and plays Moon Sonata. It doesn't go very well but then he remembers another piece by Beethoven – Tempest Movement 3 which goes much better. Suddenly, he discovers that Cis key, or Des key in other words, doesn't play. And then he remembers another thing – that he has a black piano key in his pocket. He removes the silent key and replaces it with the one from his pocket. Now he plays Tempest Movement 3 once again, which activates the projection of a hologram. The hologram informs him who Douglas is and explains his role in the future of humankind. The moral of the film is as follows: if you don't know how to change keys yourself, you'd better call a piano specialist. This might protect you from the necessity of saving the whole world!
---
Veronika decides to die  (2009) 
The first scene

The second scene
piano: YAMAHA
piece: Murray Gold – Piano piece, Recital in the night
Veronika tries to commit suicide by taking an overdose of sleeping pills. She doesn't succeed and she wakes up in mental hospital where she finds out she has only a few days to live. As a result, Veronica feels free to do what she wants and becomes interested in the world around her. There is a Yamaha piano in the hospital and it is a witness and a part of two scenes. The first one violently initiated but with a calm ending, and the second scene happening the other way round. But I will keep my lips sealed and recommend watching the film.
---
This is a list of merely 10 films created after 2000 where we can see a piano and recognise the brand. There are certainly more such films, both older and recent ones.
I'm curious what other films featuring pianos you have watched?
---
banner source:  50 shades of grey,  Fazioli