Being exact in describing piano while creating sale offer is highly important in getting to the customers. For example when someone is looking for cheap and small grand, he may put the "baby grand" or "medium grand" phrase in the search box. So, as well for piano buyers, as for sellers, skills of describing pianos correctly have huge meaning.
Serial models of verticals and grands are categorizing by it's dimensions. In the case of verticals height is the parameter that decides of particular kind. Grands are sorted by it's length. Both, pianos, and grand pianos have constant width. It is determined by the size of keys. Excepting a few cases, pianos have 88 or 85 keys. These keyboards are about from 140cm to 145cm.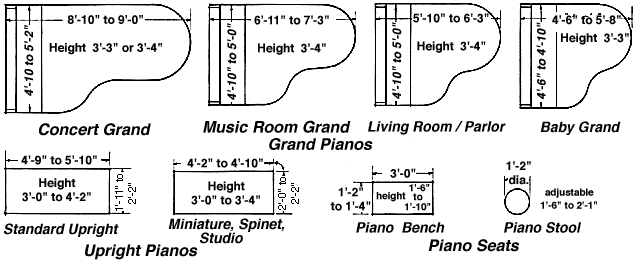 photo source: http://www.fas.harvard.edu/~loebinfo/loebinfo/Proportions/pianos.gif
It is not so popular to distinguish pianos by it's dimensions. Despite this, there is such a selection. Sometimes we read "upright" name describing vertical pianos, but such naming is a mistake.
"Upright" is a kind of verticals. It is good to be aware of it.
Spinet: from 91cm to 102cm
Console: from 102cm to 109cm
Studio: from 112cm to 122cm
Upright: from 124cm +
Sometimes one can read an advert, saying about "salon piano". It usually means that the instrument is not able to play on it, but it will look nice in salon.
In order to call piano a concert piano, the factory has to call it this way. These are generally the best and the highest models of each factory.
Pianos are also distinguish by the kind of the used action mechanism.
English piano
The damper is located below the hammers. Looking down trough open case nearly the whole mechanism is visible.
Viennese piano
By the entering the XX century, the Viennese piano actions passed into history. These are no longer produced. The damper here is above the hammers, so you cannot see the mechanism inside looking trough the open case.
Grands
Selecting grands by dimensions is much more often. It is quite popular terminology in piano trade. There are two ways to categorize grands. One has 5 points, and the second has 7.
Mignon or baby grand: 135-155 cm
Medium grand: 155-180 cm
Parlor grand: 180-210 cm
Half-Concert grand: 210-240 cm
Concert grand: 240-300 cm
Baby grand: 155 cm
Medium grand: 170 cm
Living Room grand: 180 cm
Parlor grand: 188 cm
Music Room grand: 211 cm
Half-Concert grand: 227 cm
Concert grand: 274 cm
Grand piano always was a sign of prosperity, that could have only aristocracy people. Pianists also are more interested in performing with grands than with verticals. It looks more majestic.
This instrument became so much wanted, so that factories begun to produce shorter grands than width of average one. In such models the strings are short, and the sound is depleted. For customers that demand music values it is better to choose a solid piano.
The world's longest, and the biggest grand piano is the Stolëmòwi Klawér – 608cm long. This is one and only this size grand piano in the world. The longest grand that is produced in series is 308cm long Fazioli's one.
In XIX century grands were not so long as these are today. Till 1875 all grands up to 215cm were called Parlor, and longer than 215cm – concert. Half-concert name is a result of appearing longer models, that gained concert name. Naturally, these shorter they called a half-concert.
sources:
http://www.bluebookofpianos.com/types.html
http://arspolonica.ocross.net/wymiary-fortepianow/
http://www.fas.harvard.edu/~loebinfo/loebinfo/Proportions/pianos.gif
http://en.wikipedia.org/
"