They are among the biggest or the most exclusive pianos' showrooms in the world. But, they offer instruments that suit to every pocket. Every customer is important for them, everyone can expect professional advice and time to familiarize themselves with an instrument. Most of them offer also restoration or tuning services for instruments.
They differ in the size of the surface, the time of origin, geographical location, as well as number of people involved in service, brand of instrument and its history. They are united by one of the most important factor- the instruments. Most of them are new, other are used or perfectly restored, but in each case they have a soul that touches the heart, when from their interiors go out the sounds of the most beautiful compositions …
Below, we present a selection of few most interesting showrooms, which are of interest of clients and deserve for distinction due to its surface or history.
Let's move to Spain. "Piano Importa" definitely leads here, with the largest surface, and one of the most stocked stores in Spain. It has 750 m2. It is located in the town of Xativa in Valencia. Showroom of Piano Importa is a certified distributor of new upright and grand pianos of companies such as Yamaha, Kemble(Yamaha), Boesendorfer, Steinway and Sons, Grotrian Steinweg, Schumann, Brodmann or Taylor. It offers also used pianos of brands such as Steinway and Sons, Boesendorfer, Bluthner, Seiler and Bechstein.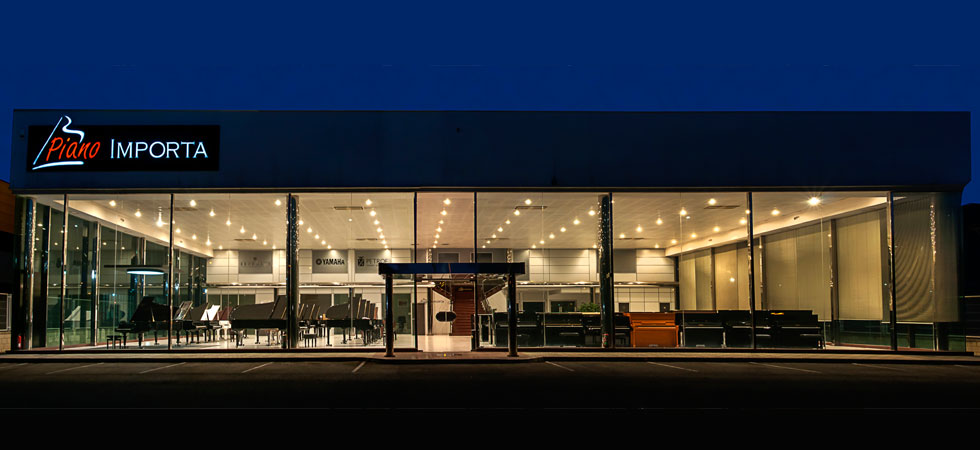 fot. by www.pianoimporta.com
"Royal Pianos" is another equally impressive showroom from Spain. It has nearly 500m2 and is located in Benalmádena (Málaga). It offers pianos of the most famous brand: Boesendorfer, Steinway, Shimmel, Bechstein, Yamaha and Kawai.
Salon also offers advices from industry's experts. Interestingly, the showroom is also a place for music trials of many bands.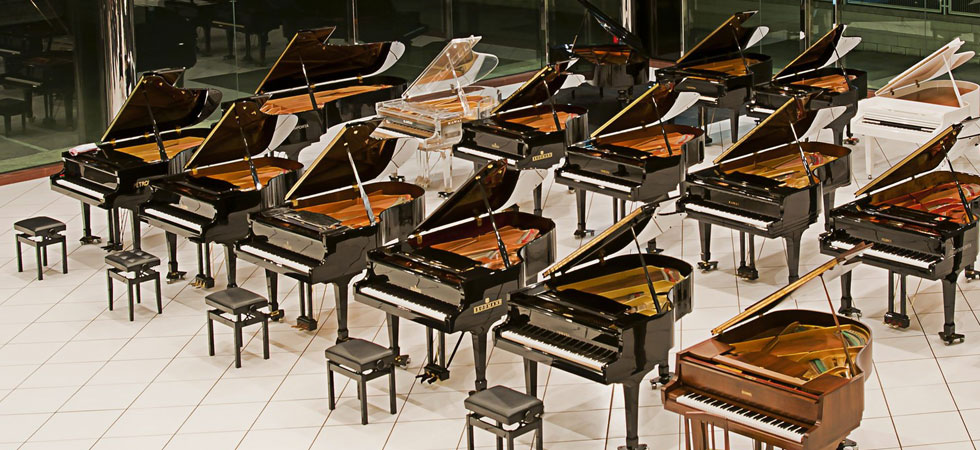 fot. by www.pianoimporta.com
Now, let's move to France. "Pianos Hanlet" is one of the oldest working piano showrooms in the country. It was founded in 1866 as a workshop R. Verviers in Belgium. Later, the company moved and developed its activity in France. Networks of the owners and employees of the company allowed it to develop cooperation with the manufacturers of most famous companies – including Steinway & Sons (1929 year). The flagship product of the showroom became grand pianos of Hanlet, as a response, they became their exclusive distributor. Historical changes in conjunction with the simultaneous adaptation to technical progress and globalization of the market made this showroom available for customers from all over the world. Piano Hanlet owners boast about generating a turnover of 11.9 million euro in the last year.
"Pianoccasion" is another French showroom located in Dardilly. It operated originally under the name "PIANO Astier". On 18 September 2009, it changed the name for PIANOCCASION after twenty years of its existence. Salon has over 300 m2. It includes only upright and grand pianos, new and used, for sale and for rent, at different prices and for every budget. All of pianos have the guarantee of at least five years.
In Germany, the most impressive is the largest showroom "Piano Salon" with 1,600 m2 of exhibition space. The company was founded in 1989 by a master of piano building, Bert Kirsten. It was originally named "Kirsten Pianohaus" and was located in Cosel Palace in Dresden. Currently, this showroom offers new and used grand and upright pianos. The "Piano Salon" offers a wide cross-section of instruments, including nearly 150 years instruments refurbished and restored in the workshop of an expert, with full respect for the techniques used by old manufacturers.
Visiting the showroom will be certainly an interesting trip within 150 years of history of instrumental architecture. It shows subtle differences between the techniques and the implementation of the instrument's sound. "Piano Salon" from Dresden is now a distributor for Germany of such brands as: C. Bechstein (pianos built since 1853), Yamaha, August Förster, Rönisch, Bechstein and W. Hoffmann.
"Music Station Werner Piano" is another showroom from Germany. Its size is almost equal to its predecessor. It has its headquarters in Aiterhofen since 1997. Its surface is now more than 1400m2. It has also very broad history. The showroom was founded in 1929, when in Teplice in Silesia, Kurt Werner opened his own repair workshop and started building pianos. Even then, he worked under the name "Werner Piano". After the war, in 1949, Kurt P. Werner opened a factory in Straubing, which employed 15 people. Over time, the company expanded and moved out into larger buildings. It currently offers pianos from the most famous companies of the industry.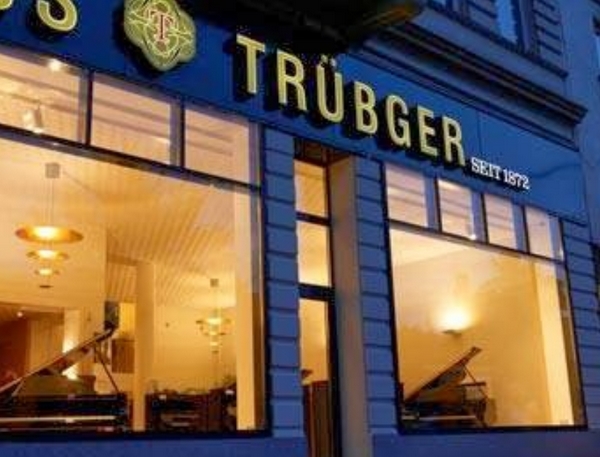 fot. by Pianohaus Truebger
"Pianohaus Truebger" is one of the oldest piano's showroom, because history of "Pianohaus Truebger" began over 140 years ago. Demand for pianos of that time encouraged ​​Trübger to create the piano with the name… Trübger! His hard work has paid off. Family Business moved to the center of Hamburg in 1913. Next generations expanded operations and the "Pianohaus Truebger" eventually become a distributor of leading brands from the industry. Currently, it is in the hands of Yvonne Trübger, who modernized and redecorated it at the beginning of 2006. Currently, grand and upright pianos are presented there on an extended to hundreds of square meters exhibition space.
fot. by Pianohaus Truebger
"Piano Galerie Berlin" is the largest distributor of pianos from Yamaha in the region of Berlin-Brandenburg. Showroom was founded in the early 1990. It has been working with Yamaha, one of the world's leading manufacturers of musical instruments since its foundation.
U.S. and Canada also have a wide range of pianos' showrooms. An excellent example is the "Bethoven Pianos" from United States, this showroom was founded over forty years ago in New York. In their offer, there are new and used pianos after a complete renovation. Among many services of that salon are e.g. rent of instruments, tuning, transportation, storage and technical support for the pianist. In redesigned service center of "Beethoven Pianos", instruments occupy space of nearly 10 500 m2.
"Pianos Prestige" started its activity in 1975 in Montreal, Canada. It is one of the most famous piano's showroom in Canada. Since 1975, it has had a network of pianos' salons in Montreal (including Boesendorfer, Kimball, Kohler & Campbell, Samick, Essex, Boston and Steinway). The offer includes brands such as Seiler, Bechstein, Hoffman, Zimmermann and Schimmel. This showroom will satisfy the needs of both, beginners and advanced pianists. In any case, their staff is willing to give an expert's advice and respond to any customer question. Pianos from "Prestige Pianos" can be found in many concert halls, festivals and universities all around the world.
Upright and grand pianos have been undoubtedly among the kings of the instruments since the beginning of the nineteenth century. They became the dominant solo instrument and remains so still.
Today, due to globalization we can have piano by one click at home. But then, we can't watch carefully instrument and we won't have the opportunity to sit behind the keyboard… But you can get an idea. Therefore, today we invite you to watch interesting instruments, including those from the largest showrooms in the world via our website –  Pianos for sale.
"